Sora Solid Gold Signet Ring
Gold-filled vs gold-plated: learn more
Item is in stock
Only

1

left in stock (1 sold in last week)
Item is out of stock
Item is unavailable
Next business day dispatch from Melbourne
Product Description
The signet ring of our dreams is finally here. The Sora Signet Ring is the effortless and minimal everyday solid gold ring you were looking for.
materials & dimensions
9K Solid Gold
Band Thickness: 1.5mm
Band Width: 1.7mm
GOLD FILLED VS GOLD PLATED
At S-kin Studio we only use the following materials for our gold products:

GOLD FILL
Can be worn in water
Tarnish resistant & long lasting

SOLID GOLD
Lasts forever
Most hypoallergenic
We don't use gold plated - here's why:

GOLD PLATED
Tarnishes quickly
May irritate sensitive skin
STORY BEHIND THE DESIGN
Sora means sky in Japanese and it reminds us of the beautiful memories we've made throughout our lives under the summer sun. Warm, meaningful and everlasting, we hope the Sora Ring reminds you of your fondest memories.
Sora Solid Gold Signet Ring
Frequently asked questions
WILL MY JEWELERY TARNISH?

With proper care, your jewelry will not tarnish for a long time. Our jewelry is never plated, so you are able to wear them day to day with ease of mind.
I HAVE SENSITIVE SKIN, CAN I WEAR YOUR JEWELRY?

Yes, absolutely. Our jewelry is made from hypoallergenic materials, such as sterling silver and solid gold. Sensitive skin can some time have a reaction to copper or nickel. We never ever use nickel in our jewelry as it is not only harmful to your health but to the health of our makers. Jewelry with copper base components are prone to turning your finger green. Therefore we try to minimize the amount of copper used in our jewelry and opt for brass or sterling silver instead.
HOW DO I TAKE CARE OF MY JEWELRY?

With any type of jewelry, even solid gold and solid silver, regular cleaning and upkeep is needed to keep your jewelry at its best condition. Simply use warm water and soap or a polishing cloth to clean. You can use our jewelry in water, however do wipe it down with warm water after you're done, especially after being submerged in salt water. Sweat can also make your jewelry duller quicker, especially necklaces, so remove these when you are working out.View our full care guide here.
WHAT IS A GOLD FILL

Gold Fill is the closest alternative to solid gold.

Unlike gold-plated or gold vermeil jewelry, gold fill is made through a process called pressure & heat bonding. This means a thick layer of gold is essentially melted and pressurised onto the base metal making it extremely durable and tarnish resistant. Gold plated/ vermeil jewelry only has the gold flash dipped or painted on.

The thickness of Gold Fill vs gold plated/vermeil jewelry is up to 100% thicker.Gold vermeil thickness can vary between less than 0.1 micron - 3+ microns of electroplated gold.

Gold Fill must have a minimum of 1/20 weight of solid gold in the jewelry piece to be considered Gold Filled. Simply put, even with the same amount of gold in the jewelry piece, the Gold Fill jewelry piece will last longer due to its manufacturing process.

Learn more about the difference between Gold Fill vs Gold Vermeil here.
HOW DO I CHOOSE MY RING SIZE?

We have a ring size guide here with instructions on how to find out your ring size. If you're still stuck, send us a message at cs@s-kin.com.au or through our live chat!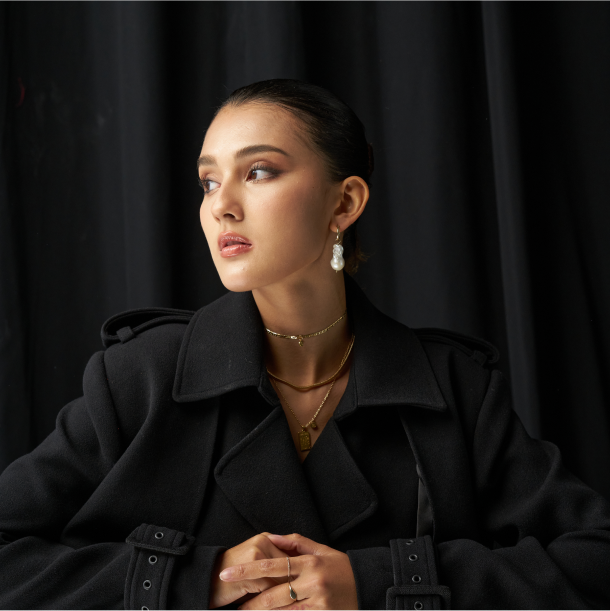 cute and comfortable to wear! i don't take any of my jewellery off for shower/sleeping/cleaning etc and it's holding up well - I probably wouldn't recommend if you are rough on your hands as the flat surface of the top is more prone to scratching etc, wished i had got something engraved on top!
So perfect! Cute and makes me feel like Prince Henry from red White and royal blue! Really good quality!
Beautiful Ring
This was a gift and she absolutely loves it. Beautiful dainty ring for her pinky finger.
Perfect!
Love this ring so much, dainty but still stands out. Great for everyday wear
The Perfect Signet Ring
I received my ring a few days ago, and it's already a favourite! It's an effortless staple piece, and is dainty but noticeable. The packaging was also much appreciated - I received a lemon quartz with my solid gold pieces! So delightful :) I'm looking forward to wearing this for years to come.