Gold-filled vs gold-plated: learn more
Item is in stock
Only

0

left in stock (1 sold in last week)
Item is out of stock
Item is unavailable
Next business day dispatch from Melbourne
Product Description
The crescent moon symbolises many things in different cultures, but in Italy, this symbolises the changes and renewal of the world, like seasons, tides, and life and the after world.
materials & dimensions
9K Gold Fill or Sterling Silver Pendant
Pendant Dimensions: 10 x 10mm
18K Gold Fill Rolo Chain
Length: 16 inch
GOLD FILLED VS GOLD PLATED
At S-kin Studio we only use the following materials for our gold products:

GOLD FILL
Can be worn in water
Tarnish resistant & long lasting

SOLID GOLD
Lasts forever
Most hypoallergenic
We don't use gold plated - here's why:

GOLD PLATED
Tarnishes quickly
May irritate sensitive skin
STORY BEHIND THE DESIGN
Inspired by her travels in Italy, each piece in the collection is deeply connected to our Creative Director, Chi Mai's memories. From the simple Italian chain that has flair & shine, to the signet rings with unique etchings - everything from the collection has its own history, romance and art.
Frequently asked questions
WHAT IS GOLD FILL JEWELRY AND HOW IS IT DIFFERENT TO GOLD PLATED JEWELRY?

Gold Fill jewelry is the closest alternative to Solid Gold. Gold Fill jewelry has a thick layer of solid gold pressure and heat bonded onto the base metal, usually brass or sterling silver. This means Gold Fill jewelry contains 5% solid gold compared to gold plated jewelry which usually contains 0.05% solid gold. Gold Fill jewelry is typically much more durable and long lasting.
CAN I WEAR GOLD FILL JEWELRY IF I HAVE SENSITIVE SKIN?

Yes, absolutely! Gold Fill is made with 5% Solid Gold heat and pressure bonded onto a base metal making it less likely for you to have a reaction. Sensitive skin can sometimes have a reaction to nickel but never ever use nickel in our jewelry as it is not only harmful to your health but to the health of our makers.
CAN I WEAR GOLD FILL IN THE SHOWER, INTO THE OCEAN, OR TO BED?

You sure can! Gold Fill is tarnish resistant and does not wear or tear when worn in water. We do however recommend taking your jewelry off if it contains any precious gemstones to avoid loosening or losing them! We also recommend cleaning your jewelry on a regular basis to maintain shine and remove grit.
WHERE IS YOUR GOLD FILL JEWELRY MADE?

All our bespoke designs are crafted in our certified ethical factories in Mumbai, India were they support a predominantly female workforce with a living wage. Many of our components are sourced from certified ethical & sustainable manufacturers based in the USA, Italy, Brazil and of course, Australia!
HOW DO I TAKE CARE OF MY GOLD FILL JEWELRY?

With any type of jewelry, even solid gold and solid silver, regular cleaning and upkeep is needed to keep your jewelry in its best condition. Simply use warm water and soap or a polishing cloth to clean. You can use our jewelry in water, however do wipe it down with warm water after you're done, especially after being submerged in salt water. Sweat can also make your jewelry duller quicker, especially necklaces, so remove these when you are working out. Avoid exposing your jewelry to skin care products, soaps, detergents and perfumes. Store your jewelry in your S-kin Studio pouch or box to avoid moisture and metal on metal rubbing.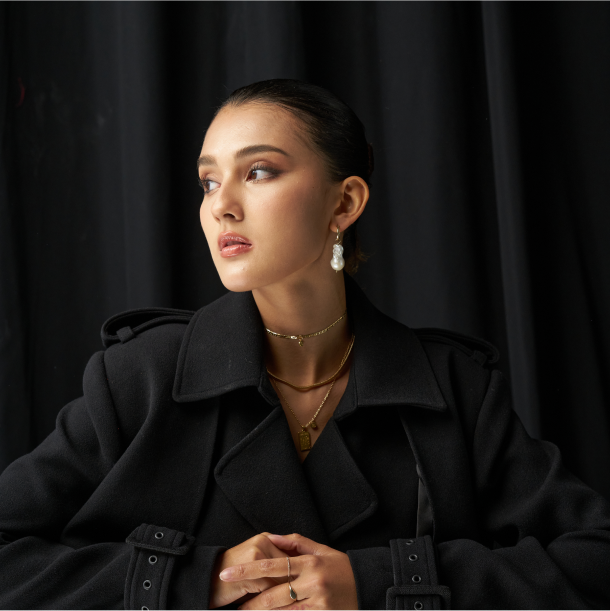 Beautiful
I have been looking for the right piece for ages and this moon seemed perfect. Let me tell you it didn't disappoint when it arrived. It's beautiful and the quality is lovely. The tone of gold is also well balanced - not to yellow or dark. I look forward to more pieces from s-Kin in the future
Second purchase
I adore this necklace so much this is my second time buying it! I was a bit disappointed in how quickly my original necklace deteriorated- stone fell out very quickly and then necklace did rust. However i also wore almost every day for 2 years (though never in water or to sleep!). Clearly worth it if i'm buying again - just hoping stone doesn't fall out this time
PERFECT JEWELLERY
i bought two necklaces from here and j absolutely love them so much!! they're my everyday necklaces and since i layer them, the only problem is the tangling but that's inevitable. i super highly recommend their jewellery !
So cute!
Such great quality and such a stunning necklace x