Aphrodite Baroque Pearl Earrings (Single Pearl)
Gold-filled vs gold-plated: learn more
Item is in stock
Only

0

left in stock (1 sold in last week)
Item is out of stock
Item is unavailable
Next business day dispatch from Melbourne
Product Description
Named after the Greek goddess of love and beauty, Aphrodite features one-of-kind large baroque tear drop- style freshwater pearls on stunning gold fill hoops.
materials & dimensions
14K Gold Fill Hoops
Dimensions: 15mm hoops, 10-15mm pearls
1 freshwater pearl on each hoop (irregular in size)
Latch hoop fastening
Sterling Silver available upon request.
GOLD FILLED VS GOLD PLATED
At S-kin Studio we only use the following materials for our gold products:

GOLD FILL
Can be worn in water
Tarnish resistant & long lasting

SOLID GOLD
Lasts forever
Most hypoallergenic
We don't use gold plated - here's why:

GOLD PLATED
Tarnishes quickly
May irritate sensitive skin
STORY BEHIND THE DESIGN
Our Handmade Pearl Collection is inspired by the natural phenomenon that is freshwater pearls. Each pearl is one-of-a-kind and 100% sourced ethically to preserve our environment. Timeless and classic, we are interpreted the everlasting pearl in unique designs to satisfy all of our minimalist and maximalist desires. Perfect for the classic bride, special occasions or as a stunning everyday piece.
Aphrodite Baroque Pearl Earrings (Single Pearl)
Frequently asked questions
WHAT IS GOLD FILL JEWELRY AND HOW IS IT DIFFERENT TO GOLD PLATED JEWELRY?

Gold Fill jewelry is the closest alternative to Solid Gold. Gold Fill jewelry has a thick layer of solid gold pressure and heat bonded onto the base metal, usually brass or sterling silver. This means Gold Fill jewelry contains 5% solid gold compared to gold plated jewelry which usually contains 0.05% solid gold. Gold Fill jewelry is typically much more durable and long lasting.
CAN I WEAR GOLD FILL JEWELRY IF I HAVE SENSITIVE SKIN?

Yes, absolutely! Gold Fill is made with 5% Solid Gold heat and pressure bonded onto a base metal making it less likely for you to have a reaction. Sensitive skin can sometimes have a reaction to nickel but never ever use nickel in our jewelry as it is not only harmful to your health but to the health of our makers.
CAN I WEAR GOLD FILL IN THE SHOWER, INTO THE OCEAN, OR TO BED?

You sure can! Gold Fill is tarnish resistant and does not wear or tear when worn in water. We do however recommend taking your jewelry off if it contains any precious gemstones to avoid loosening or losing them! We also recommend cleaning your jewelry on a regular basis to maintain shine and remove grit.
WHERE IS YOUR GOLD FILL JEWELRY MADE?

All our bespoke designs are crafted in our certified ethical factories in Mumbai, India were they support a predominantly female workforce with a living wage. Many of our components are sourced from certified ethical & sustainable manufacturers based in the USA, Italy, Brazil and of course, Australia!
HOW DO I TAKE CARE OF MY GOLD FILL JEWELRY?

With any type of jewelry, even solid gold and solid silver, regular cleaning and upkeep is needed to keep your jewelry in its best condition. Simply use warm water and soap or a polishing cloth to clean. You can use our jewelry in water, however do wipe it down with warm water after you're done, especially after being submerged in salt water. Sweat can also make your jewelry duller quicker, especially necklaces, so remove these when you are working out. Avoid exposing your jewelry to skin care products, soaps, detergents and perfumes. Store your jewelry in your S-kin Studio pouch or box to avoid moisture and metal on metal rubbing.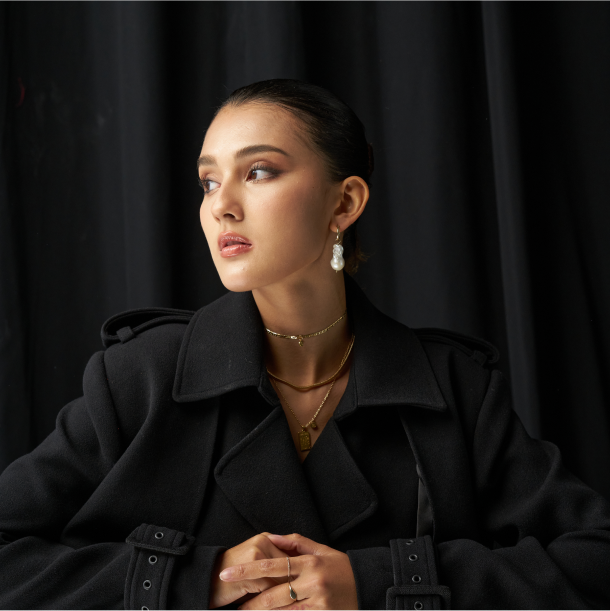 Aphrodite Baroque Pearl Earrings (Single Pearl)
makes you feel like a renaissance princess
literally the most beautiful earrings ever! love how each pearl is so different and unique, its perfectly sized for a statement piece! tiny bit heavy after a whole day of wearing them but so worth it 🤩🤍🤍
Pearl earings
The earings are probably very beautiful but I still didn't even get them. DHL lost the first package and I appreaciate you sending the second one but I am waiting super long for them. Then I also had to pay custom duty which was almost the same price as the earings which is not the shop fault but maybe it would be worth to mention on the website for other customers from overseas. Contact with customers support very fast and helpful.
Perfect Pair
I am obsessed with my beautiful fresh water pearls. I've had my eye on these gorgeous earrings for the last 12 months!
I don't wear a lot of jewellery but these are so beautiful and elegant. The perfect pair for my special day.
Incredible service from this lovely team - thanks loves! 💕
Just stunning!
I love that they're lightweight and slightly misshapen, no two are the same! Can be dressed up or down - just gorgeous!