Viola Solid Gold Huggie Hoops
Item is in stock
Only

0

left in stock (1 sold in last week)
Item is out of stock
Item is unavailable
Next business day dispatch from Melbourne
Product Description
The loveliest little huggie hoops, these stunning earrings feature are perfect for your seconds, thirds and even helix piercings.
materials & dimensions
9K Solid Gold
8 White Cubic Zirconia Stones
Stone Size: 1.1mm x 1.1mm
Hoop Inner & Outer Diameter: 9mm, 12mm
Hoop Thickness & Width: 1.5mm, 3.5mm
Click Fastening
GOLD FILLED VS GOLD PLATED
At S-kin Studio we only use the following materials for our gold products:

GOLD FILL
Can be worn in water
Tarnish resistant & long lasting

SOLID GOLD
Lasts forever
Most hypoallergenic
We don't use gold plated - here's why:

GOLD PLATED
Tarnishes quickly
May irritate sensitive skin
STORY BEHIND THE DESIGN
Inspired by our cult favourite Serah and Renne Baguette Huggie Hoops from our Limited Edition La Femme Collection, these hoops are of the same textured design but made in a dazzling solid gold and ever so slightly smaller.
Viola Solid Gold Huggie Hoops
Frequently asked questions
WILL MY JEWELERY TARNISH?

With proper care, your jewelry will not tarnish for a long time. Our jewelry is never plated, so you are able to wear them day to day with ease of mind.
I HAVE SENSITIVE SKIN, CAN I WEAR YOUR JEWELRY?

Yes, absolutely. Our jewelry is made from hypoallergenic materials, such as sterling silver and solid gold. Sensitive skin can some time have a reaction to copper or nickel. We never ever use nickel in our jewelry as it is not only harmful to your health but to the health of our makers. Jewelry with copper base components are prone to turning your finger green. Therefore we try to minimize the amount of copper used in our jewelry and opt for brass or sterling silver instead.
CAN I WEAR YOUR JEWELRY IN WATER?

Yes, absolutely. You can wear our jewelry into the shower, to sleep, and to the sea. Be careful however not to put gemstones in water. Remember to clean it with a warm cloth after contact to keep the shine on your jewelry.
HOW DO I TAKE CARE OF MY JEWELRY?

With any type of jewelry, even solid gold and solid silver, regular cleaning and upkeep is needed to keep your jewelry at its best condition. Simply use warm water and soap or a polishing cloth to clean. You can use our jewelry in water, however do wipe it down with warm water after you're done, especially after being submerged in salt water. Sweat can also make your jewelry duller quicker, especially necklaces, so remove these when you are working out.View our full care guide here.
WHAT IS A GOLD FILL

Gold Fill is the closest alternative to solid gold.

Unlike gold-plated or gold vermeil jewelry, gold fill is made through a process called pressure & heat bonding. This means a thick layer of gold is essentially melted and pressurised onto the base metal making it extremely durable and tarnish resistant. Gold plated/ vermeil jewelry only has the gold flash dipped or painted on.

The thickness of Gold Fill vs gold plated/vermeil jewelry is up to 100% thicker.Gold vermeil thickness can vary between less than 0.1 micron - 3+ microns of electroplated gold.

Gold Fill must have a minimum of 1/20 weight of solid gold in the jewelry piece to be considered Gold Filled. Simply put, even with the same amount of gold in the jewelry piece, the Gold Fill jewelry piece will last longer due to its manufacturing process.

Learn more about the difference between Gold Fill vs Gold Vermeil here.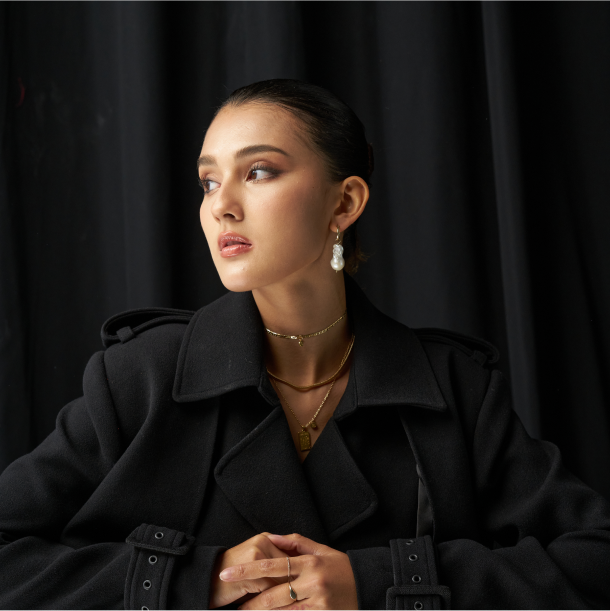 Beautiful piece
I love these earrings, they're so beautiful and I've already gotten a few compliments and people asking me where I've got them from!
Beautifuk
Absolutely love these little earrings, I get so many compliments when I wear them. They're amazing quality as well!