Primrose Solid Gold Petite Diamond Ring
Gold-filled vs gold-plated: learn more
Item is in stock
Only

2

left in stock (1 sold in last week)
Item is out of stock
Item is unavailable
Next business day dispatch from Melbourne
Product Description
The most gorgeous Petite Diamond Ring one could get, she will add a hint of sparkle only a diamond could give.
materials & dimensions
9K Solid Gold & White Diamond
Band Width: 0.9mm
Band Depth: 0.9mm
Diamond Size: 1.8mm x 1.8mm
GOLD FILLED VS GOLD PLATED
At S-kin Studio we only use the following materials for our gold products:

GOLD FILL
Can be worn in water
Tarnish resistant & long lasting

SOLID GOLD
Lasts forever
Most hypoallergenic
We don't use gold plated - here's why:

GOLD PLATED
Tarnishes quickly
May irritate sensitive skin
STORY BEHIND THE DESIGN
Inspired by our cult favourite White Gemstone Petite Ring, this effortless and understated Primrose Diamond Ring is perfect adorn your hand on the daily and start your ethical diamond jewelry collection!
Primrose Solid Gold Petite Diamond Ring
Frequently asked questions
WILL MY JEWELERY TARNISH?

With proper care, your jewelry will not tarnish for a long time. Our jewelry is never plated, so you are able to wear them day to day with ease of mind.
I HAVE SENSITIVE SKIN, CAN I WEAR YOUR JEWELRY?

Yes, absolutely. Our jewelry is made from hypoallergenic materials, such as sterling silver and solid gold. Sensitive skin can some time have a reaction to copper or nickel. We never ever use nickel in our jewelry as it is not only harmful to your health but to the health of our makers. Jewelry with copper base components are prone to turning your finger green. Therefore we try to minimize the amount of copper used in our jewelry and opt for brass or sterling silver instead.
CAN I WEAR YOUR JEWELRY IN WATER?

Yes, absolutely. You can wear our jewelry into the shower, to sleep, and to the sea. Be careful however not to put gemstones in water. Remember to clean it with a warm cloth after contact to keep the shine on your jewelry.
HOW DO I TAKE CARE OF MY JEWELRY?

With any type of jewelry, even solid gold and solid silver, regular cleaning and upkeep is needed to keep your jewelry at its best condition. Simply use warm water and soap or a polishing cloth to clean. You can use our jewelry in water, however do wipe it down with warm water after you're done, especially after being submerged in salt water. Sweat can also make your jewelry duller quicker, especially necklaces, so remove these when you are working out.View our full care guide here.
WHAT IS A GOLD FILL

Gold Fill is the closest alternative to solid gold.

Unlike gold-plated or gold vermeil jewelry, gold fill is made through a process called pressure & heat bonding. This means a thick layer of gold is essentially melted and pressurised onto the base metal making it extremely durable and tarnish resistant. Gold plated/ vermeil jewelry only has the gold flash dipped or painted on.

The thickness of Gold Fill vs gold plated/vermeil jewelry is up to 100% thicker.Gold vermeil thickness can vary between less than 0.1 micron - 3+ microns of electroplated gold.

Gold Fill must have a minimum of 1/20 weight of solid gold in the jewelry piece to be considered Gold Filled. Simply put, even with the same amount of gold in the jewelry piece, the Gold Fill jewelry piece will last longer due to its manufacturing process.

Learn more about the difference between Gold Fill vs Gold Vermeil here.
HOW DO I CHOOSE MY RING SIZE?

We have a ring size guide here with instructions on how to find out your ring size. If you're still stuck, send us a message at cs@s-kin.com.au or through our live chat!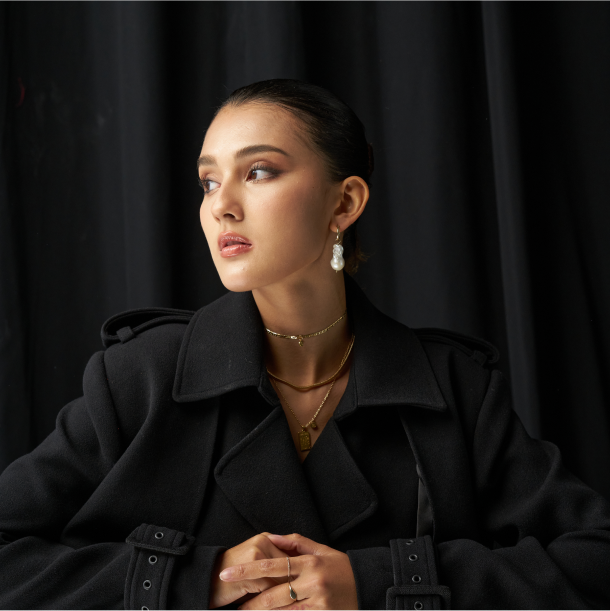 Super cute stackable ring!
Gifted this one to my sister, it's so cute I'm thinking of getting a matching one for myself :)
It's delicate and the gold is a lovely buttery colour. I love that it's solid gold as well. Hoping to see more solid gold pieces in the future.
Love!
Beautiful ring. I've since purchased more of the solid gold pieces due to the amazing quality. Thank you!
Absolutely perfect
This ring is amazing. I was so happy to be able to order a larger size because it's so hard to find rings to fit my index fingers. It's so comfortable and beautiful, and I'm so happy with how it looks on my large-boned fingers! It's everything I wanted for pretty, everyday wear.