Marguerite Solid Gold Flower Diamond Necklace
Gold-filled vs gold-plated: learn more
Item is in stock
Only

0

left in stock (1 sold in last week)
Item is out of stock
Item is unavailable
Next business day dispatch from Melbourne
Product Description
To match your cheery disposition, the Marguerite Flower Diamond Necklace will make a timeless addition to your everyday luxury collection.
materials & dimensions
9K Solid Gold & White Diamond
Chain Length: 17 inch/43 cm + 1 inch extension chain
Diamond Size: 1.5mm x1.5mm
Pendant Dimensions: 10mm x 6mm
GOLD FILLED VS GOLD PLATED
At S-kin Studio we only use the following materials for our gold products:

GOLD FILL
Can be worn in water
Tarnish resistant & long lasting

SOLID GOLD
Lasts forever
Most hypoallergenic
We don't use gold plated - here's why:

GOLD PLATED
Tarnishes quickly
May irritate sensitive skin
STORY BEHIND THE DESIGN
Inspired by our favourite understated flower, Marguerite is the French word for Daisy. The bigger sister of the Leilani Flower Diamond Studs, the pair make a meaning and memorable gift!
Marguerite Solid Gold Flower Diamond Necklace
Frequently asked questions
WILL MY JEWELERY TARNISH?

With proper care, your jewelry will not tarnish for a long time. Our jewelry is never plated, so you are able to wear them day to day with ease of mind.
I HAVE SENSITIVE SKIN, CAN I WEAR YOUR JEWELRY?

Yes, absolutely. Our jewelry is made from hypoallergenic materials, such as sterling silver and solid gold. Sensitive skin can some time have a reaction to copper or nickel. We never ever use nickel in our jewelry as it is not only harmful to your health but to the health of our makers. Jewelry with copper base components are prone to turning your finger green. Therefore we try to minimize the amount of copper used in our jewelry and opt for brass or sterling silver instead.
CAN I WEAR YOUR JEWELRY IN WATER?

Yes, absolutely. You can wear our jewelry into the shower, to sleep, and to the sea. Be careful however not to put gemstones in water. Remember to clean it with a warm cloth after contact to keep the shine on your jewelry.
HOW DO I TAKE CARE OF MY JEWELRY?

With any type of jewelry, even solid gold and solid silver, regular cleaning and upkeep is needed to keep your jewelry at its best condition. Simply use warm water and soap or a polishing cloth to clean. You can use our jewelry in water, however do wipe it down with warm water after you're done, especially after being submerged in salt water. Sweat can also make your jewelry duller quicker, especially necklaces, so remove these when you are working out.View our full care guide here.
WILL STERLING SILVER TARNISH?

Sterling Silver will go duller over time. As with any jewelry, it is prone to collect dust, dirt and sweat over prolonged use. To restore the silver to its shine, use a polishing cloth (special type of cloth, you can get this at your jewellers'), or a simple aluminum, baking soda, and water solution to get rid of the gunk.
WHAT IS GOLD-FILLED?

Gold-filled is the closest alternative to solid gold. Gold filled jewelry has a thick layer of solid gold bonded onto the base layer, usually brass or sterling silver. Compared to gold plated which uses a process of electroplating that quickly dips your jewelry in gold, resulting in a miniscule layer of gold, gold-filled is much more durable and long lasting.
HOW DO I CHOOSE MY RING SIZE?

We have a ring size guide here with instructions on how to find out your ring size. If you're still stuck, send us a message at cs@s-kin.com.au or through our live chat!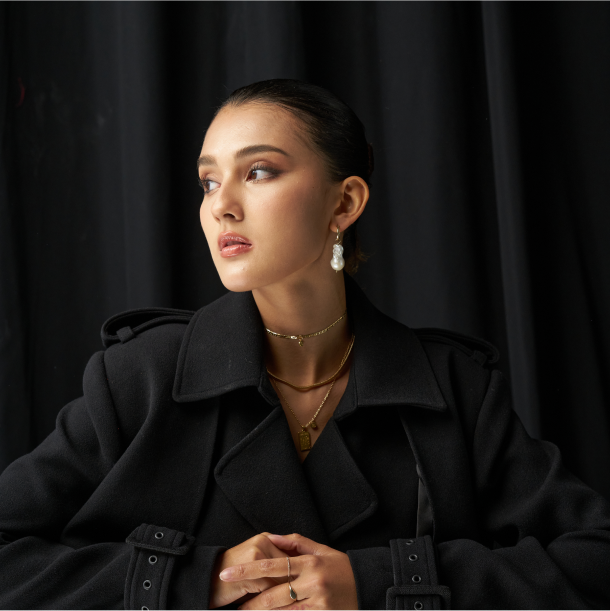 Marguerite Solid Gold Flower Diamond Necklace