Gold-filled vs gold-plated: learn more
Item is in stock
Only

0

left in stock (1 sold in last week)
Item is out of stock
Item is unavailable
Next business day dispatch from Melbourne
Product Description
This timeless internally threaded flatback stud is suitable for your lobe, upper lobe, helix, tragus, conch, front helix, conch, flat piercing.
materials & dimensions
18K Gold Fill
Dimensions: 1.4mm x 3.1mm
Featuring one tiny cubic zirconia & one tiny pearl
GOLD FILLED VS GOLD PLATED
At S-kin Studio we only use the following materials for our gold products:

GOLD FILL
Can be worn in water
Tarnish resistant & long lasting

SOLID GOLD
Lasts forever
Most hypoallergenic
We don't use gold plated - here's why:

GOLD PLATED
Tarnishes quickly
May irritate sensitive skin
STORY BEHIND THE DESIGN
Like the iconic singer-songwriter Madonna, we hope this timeless piece is as elegant and memorable as the pop icon herself. The internally threaded design also allows for a seamless easy-to-wear stud that you can sleep, swim and shower comfortably in.
Frequently asked questions
WHAT GAUGE ARE YOUR PIERCING COLLECTION EARRINGS?

All of our Piercing Collection earrings are 18G. 18G earrings are suitable for most ear piercings including cartilage piercings
HOW LONG SHOULD I WAIT UNTIL I CHANGE MY NEW PIERCING EARRING?

For lobe piercings we generally recommend waiting at least 6-8 weeks before changing your earring. For cartilage piercings it can take anywhere between 4 - 12 months for your ear to properly heal. If you are unsure whether your piercing is ready to be changed we recommend consulting your local piercer
SHOULD I BUY GOLD FILL PIERCING EARRINGS OR SOLID GOLD PIERCING EARRINGS?

Our 18K Gold Fill piercing earrings are suitable for fully healed piercings. For those with fresh/healing piercings or prefer to keep their earrings in long term, we recommend our 14K Solid Gold piercing earrings. Our 14K Solid Gold are an investment and you can expect to wear them for many years to come.
WHAT IS THE DIFFERENCE BETWEEN INTERNALLY THREADED AND EXTERNALLY THREADED EARRINGS?

Instead of a regular post with a butterfly or ball back, internally threaded earrings have a screw that you thread and twist into a hollow post with a flat back which is inserted from the back of your ear for a seamless end to end finish. This means the back of the earring sits flush on your skin and doesn't stick out.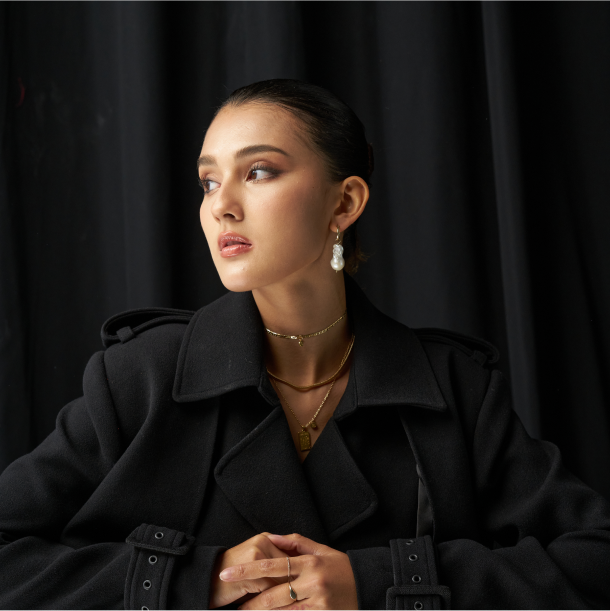 Have not received ear rings yet.
Cute but difficult to put on
The earring itself is absolutely stunning - very dainty and cute! However it was extremely difficult to put in due to its size and with my big hands and long nails- especially in a helix piercing. Probably need a second person to help.
If you're thinking about it just buy it!
Seriously if you're thinking about getting it, just do it! It's so cute and dainty, I wear it in my forward helix and it looks so cute with the little pearl dangle, but honestly it would look great in any piercing!
It is a little bit fiddly to get in just because the charm is so small but if you're having trouble you can always ask someone to help.
So petite and elegant
This charm is super tiny and so beautiful! This will make the perfect size forward helix piercing, I'm very excited.
Tragus Heaven
Very cute flatback earring. Just the right size for the tragus as it's so tiny the pearl dangle isn't overwelming,