Alice Solid Gold Wishbone Ring
Gold-filled vs gold-plated: learn more
Item is in stock
Only

9

left in stock (1 sold in last week)
Item is out of stock
Item is unavailable
Next business day dispatch from Melbourne
Product Description
A subtle hint to your royal disposition, our Alice Wishbone Ring is a dainty and minimal ring with a crown like detail to let everyone one you're the queen in your life.
materials & dimensions
9K Solid Gold & White Cubic Zirconia
Band Width: 1.2mm
Band Thickness: 1.3mm
Stone Size: 1mm
GOLD FILLED VS GOLD PLATED
At S-kin Studio we only use the following materials for our gold products:

GOLD FILL
Can be worn in water
Tarnish resistant & long lasting

SOLID GOLD
Lasts forever
Most hypoallergenic
We don't use gold plated - here's why:

GOLD PLATED
Tarnishes quickly
May irritate sensitive skin
STORY BEHIND THE DESIGN
Inspired by the shape of a tiara, the Alice Wishbone Ring is refined and regal. She represents all of our inners queens and reminds us that we are the masters of our own destiny.
Alice Solid Gold Wishbone Ring
Frequently asked questions
WILL MY JEWELERY TARNISH?

With proper care, your jewelry will not tarnish for a long time. Our jewelry is never plated, so you are able to wear them day to day with ease of mind.
I HAVE SENSITIVE SKIN, CAN I WEAR YOUR JEWELRY?

Yes, absolutely. Our jewelry is made from hypoallergenic materials, such as sterling silver and solid gold. Sensitive skin can some time have a reaction to copper or nickel. We never ever use nickel in our jewelry as it is not only harmful to your health but to the health of our makers. Jewelry with copper base components are prone to turning your finger green. Therefore we try to minimize the amount of copper used in our jewelry and opt for brass or sterling silver instead.
CAN I WEAR YOUR JEWELRY IN WATER?

Yes, absolutely. You can wear our jewelry into the shower, to sleep, and to the sea. Be careful however not to put gemstones in water. Remember to clean it with a warm cloth after contact to keep the shine on your jewelry.
HOW DO I TAKE CARE OF MY JEWELRY?

With any type of jewelry, even solid gold and solid silver, regular cleaning and upkeep is needed to keep your jewelry at its best condition. Simply use warm water and soap or a polishing cloth to clean. You can use our jewelry in water, however do wipe it down with warm water after you're done, especially after being submerged in salt water. Sweat can also make your jewelry duller quicker, especially necklaces, so remove these when you are working out.View our full care guide here.
WHERE IS YOUR GOLD FILL JEWELRY MADE?

All our bespoke designs are crafted in our certified ethical factories in Mumbai, India were they support a predominantly female workforce with a living wage. Many of our components are sourced from certified ethical & sustainable manufacturers based in the USA, Italy, Brazil and of course, Australia!
HOW DO I CHOOSE MY RING SIZE?

We have a ring size guide here with instructions on how to find out your ring size. If you're still stuck, send us a message at cs@s-kin.com.au or through our live chat!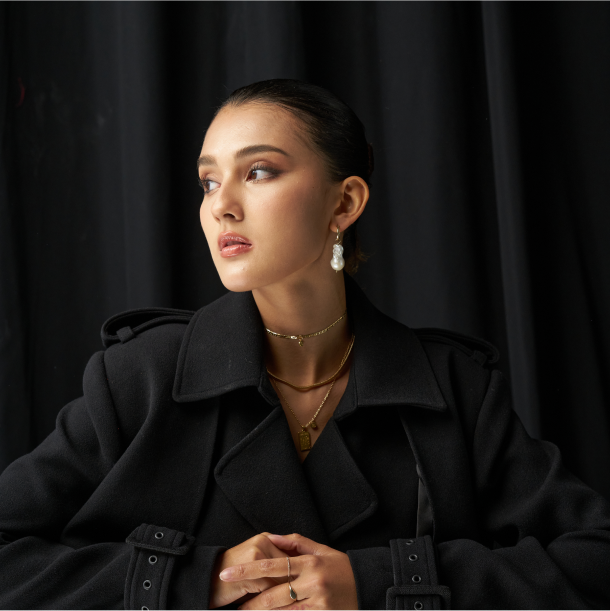 So cute
It's thinner than I originally thought but it's so dainty and cute. It adds something extra to every outfit and it makes me happier everytime I look at it. I've had it for around 3 months now and there's absolutely no tarnishing or colour change. I was a little scared it bent over time, but even if it did it was such a small change I can't even tell the difference.
Perfect
So pretty and delicate. Super comfy too as it's more thin
Beautiful statement piece, looks great on my finger