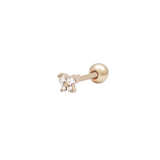 9K Solid Gold Cho Butterfly Single Stud
Item is in stock
Only

7

left in stock (1 sold in last week)
Item is out of stock
Item is unavailable
Next business day dispatch from Melbourne
Product Description
Inspired by the vibrance and elegance of the butterfly, Cho will add a subtle hint of colour to your curated ear stack. Fit with a ball back, Cho can always be worn comfortably in your lobe, forward helix, helix, conch, flat or tragus piercings.
materials & dimensions
9K Solid Gold
Dimensions: 2.5mm, 10mm post length
Featuring four round Cubic Zirconia gemstones depicting the four wings of a butterfly
Ball back fastening
Sold as single
GOLD FILLED VS GOLD PLATED
At S-kin Studio we only use the following materials for our gold products:

GOLD FILL
Can be worn in water
Tarnish resistant & long lasting

SOLID GOLD
Lasts forever
Most hypoallergenic
We don't use gold plated - here's why:

GOLD PLATED
Tarnishes quickly
May irritate sensitive skin
STORY BEHIND THE DESIGN
Inspired by the birthstones of each month, we created the Birthstone Piercing Collection as a way to add a hint of colour to your ear stack in a way that is both personalised and unique. A stunning addition to your 9K Solid Gold or Gold Fill jewelry selection, the Ren Lotus Stud and the Cho Butterfly Stud makes beautiful gifts for birthdays, anniversaries and other milestone occasions.
9K Solid Gold Cho Butterfly Single Stud
Frequently asked questions
WHAT GAUGE ARE YOUR PIERCING COLLECTION EARRINGS?

All of our Piercing Collection earrings are 18G. 18G earrings are suitable for most ear piercings including cartilage piercings
HOW LONG SHOULD I WAIT UNTIL I CHANGE MY NEW PIERCING EARRING?

For lobe piercings we generally recommend waiting at least 6-8 weeks before changing your earring. For cartilage piercings it can take anywhere between 4 - 12 months for your ear to properly heal. If you are unsure whether your piercing is ready to be changed we recommend consulting your local piercer
SHOULD I BUY GOLD FILL PIERCING EARRINGS OR SOLID GOLD PIERCING EARRINGS?

Our 18K Gold Fill piercing earrings are suitable for fully healed piercings. For those with fresh/healing piercings or prefer to keep their earrings in long term, we recommend our 14K Solid Gold piercing earrings. Our 14K Solid Gold are an investment and you can expect to wear them for many years to come.
WHAT IS THE DIFFERENCE BETWEEN INTERNALLY THREADED AND EXTERNALLY THREADED EARRINGS?

Instead of a regular post with a butterfly or ball back, internally threaded earrings have a screw that you thread and twist into a hollow post with a flat back which is inserted from the back of your ear for a seamless end to end finish. This means the back of the earring sits flush on your skin and doesn't stick out.